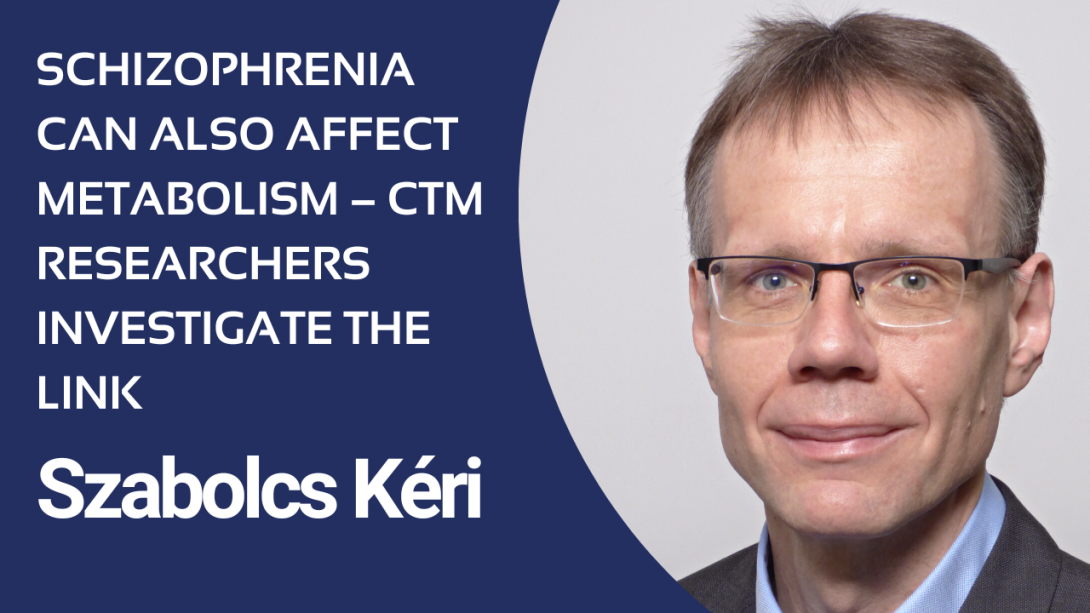 For a long time, it was thought that schizophrenia was likely to lead to metabolic syndrome due to drug side effects, but now, this does not seem to be true. The metabolic problem may be present because schizophrenia is not just a mental illness but a systemic disease. Szabolcs Kéri, who was named best supervisor of the month in September by CTM, wants to investigate the background of this phenomenon with his student, Alexander Kancsev.
Szabolcs Kéri is in his first year at the Centre for Translational Medicine, and its system is entirely new to him. He learned about the opportunity of joining CTM from Professor Péter Hegyi. Currently, he has one student who is a psychiatrist like him, and their goals are similar. "I think this is the key to good cooperation, it is important that we have similar plans and ways of thinking. I find translational medicine useful, and joining the program was refreshing to me. Participants and students come from various countries; it feels like I'm teaching at a foreign university. I used to work in the United States, and the Centre is a throwback to those days. We get a lot of support from the team, so we can focus on helping students, and work on big and important issues."
Not just a mental problem
Professor Kéri, along with his student, is researching the links between schizophrenia, cognitive functions, and metabolic syndrome. They want to find out how metabolic abnormalities (diabetes, in particular) associated with schizophrenia affect attention, memory, and decision-making functions. This is a relatively new area of research, with few publications available. As with all new areas, the data is conflicting. For this reason, the research was initiated with great curiosity. "My student and I have a 30-60-minute weekly project meeting, along with group meetings. This is important because we get collective feedback from the group members."
The research is based on the observation that patients already have metabolic abnormalities at the onset of schizophrenia, that are linked to cognitive problems. This is new because it was previously assumed that metabolic problems develop as a drug side effect.
Step by step
"For now, we are systematically reviewing the literature on this topic. We also have a national database where we collect our data, which we process. This is important because this is the way to do a proper meta-analysis. In our research, we collaborate with several institutions to study cognitive functions in a large patient population. We measure these functions with tests and monitor laboratory results for glucose metabolism."
If metabolic abnormalities really are linked to schizophrenia, this could have serious practical implications. In this case, at the beginning of schizophrenia, the focus should not only be on its treatment but also on the metabolic disorders that precede diabetes. This could potentially improve cognitive functions, patients' attention, memory, and decision-making. It seems that early treatment of metabolic disorders could help prevent cognitive decline.
(Emese Szabó)